Comfort and Elegance: An Ideal Space for Rest
The room on offer is an ode to comfort and casual elegance. Equipped with two beds, a private bathroom and air conditioning, every detail has been taken care of to ensure a full and restful rest. Mixing warm colors and soft textiles, design elements and décor help create a welcoming space, ideal for relaxation after a day of exploring or enjoying the beach.
Private Terrace: A Relaxing Corner Near the Sea
The charm of "Almas del Mar" does not end inside the room. The private terrace is an outdoor space dedicated to relaxation and enjoying the surroundings. Furnished with a hammock, it's the perfect nook to enjoy a sunset nap, read a good book, or simply gaze at the majesty of the ocean. The sound of the waves and the panoramic views of the sea provide a therapeutic environment, perfect for meditation and rejuvenation.
High Quality Services
Thinking about the comfort of the guests, "Almas del Mar" offers a series of high quality services and amenities. Guests have at their disposal a refrigerator to store food and drinks, as well as a coffee maker, ideal for preparing that necessary morning coffee. In addition, on the ground floor there is a pleasant bar, the perfect place to enjoy a refreshing drink and meet other travelers. "Almas del Mar" combines the serenity of a beach house with the comforts of high-end accommodation, creating a unique beach vacation experience in El Paredón.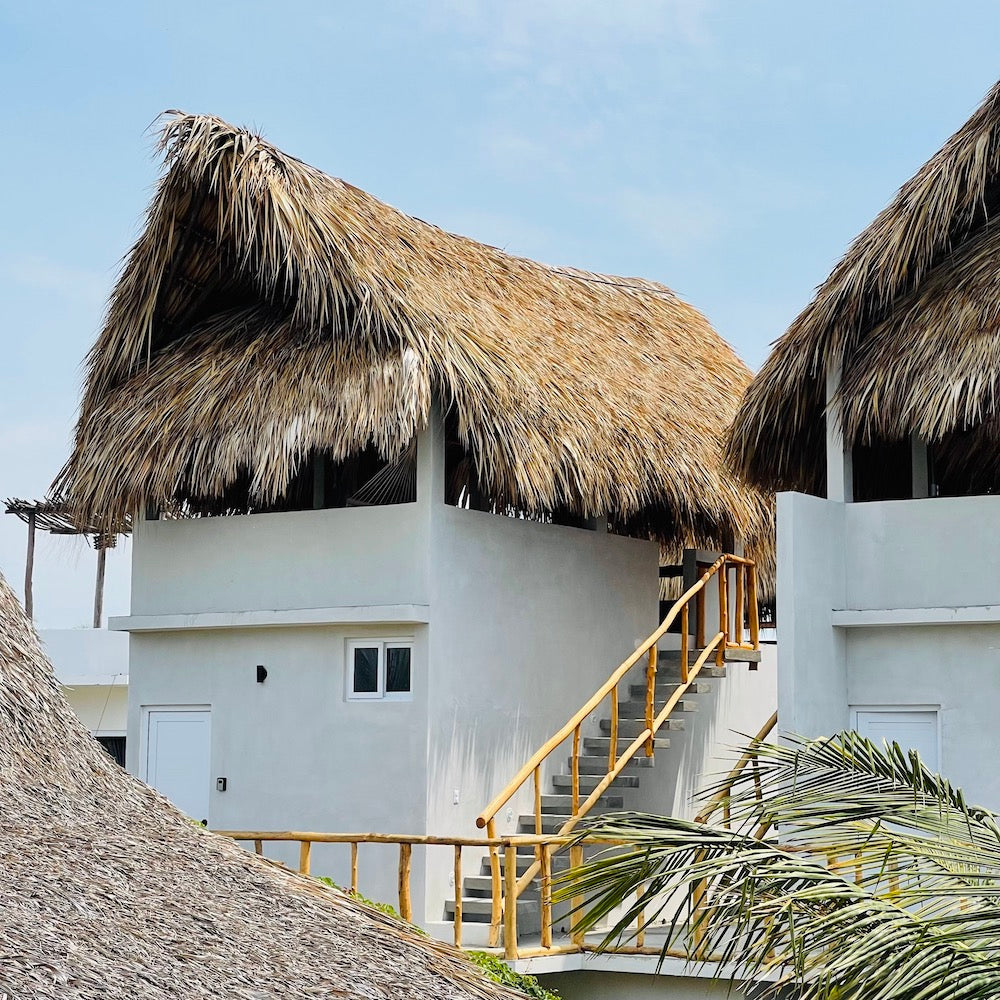 Airbnb in El Paredón
Do not hesitate and book your stay at Almas del Mar, an Airbnb in El Paredón Guatemala that will make you feel at home. Reserve soon!
Reserve here!
Accommodation in El Paredón: discover the best Airbnb options
What is Airbnb and how does it work?

Airbnb is an online platform that allows you to rent accommodation from local hosts around the world. You can choose from a wide variety of options, from houses and apartments to cabins and castles. To use Airbnb, you just have to create an account, search for the accommodation that you like the most, contact the host and book your stay. You can also become a host and offer your space to other travelers.
What are the advantages of staying in an Airbnb in El Paredón?

Enjoy more space and comfort: Airbnbs offer you more space and privacy than a hotel room, and they also have all the amenities you need for your stay, such as Wi-Fi, air conditioning, television, etc.
Live an authentic and personalized experience: Airbnbs allow you to get to know the culture and local life of El Paredón, since you will be able to interact with the hosts and receive their advice and recommendations on what to do and where to go in the area.
Support the local economy: by staying at an Airbnb, you are contributing to the development and sustainability of El Paredón, since you are generating income for local hosts and promoting responsible tourism.
What types of Airbnb accommodations are available in El Paredon?

There are many types of accommodation available on Airbnb in El Paredón, for all tastes and budgets. Some examples are:

Oceanfront Homes: If you want to enjoy the sight and sound of the ocean, you can choose an oceanfront home, such as [Casa Chulita], an eco-friendly home with a private pool; or [Almas del Mar], a two-story house with a terrace and hammocks.
Rustic cabins: if you prefer a more natural and cozy environment, you can opt for a rustic cabin, like [La Casita], a cabin with a view of the mangrove; or [Casa Mango], a cabin with a garden and outdoor kitchen.
Shared Rooms: If you are traveling alone or with friends, and you want to meet other travelers, you can stay in a shared room, like [The Surf Shack], a room with a surfer atmosphere; o [The Bunk House], a room with a private bathroom and access to the pool.
What activities can be done in El Paredón and its surroundings?

El Paredón is an ideal destination for lovers of the sea, nature and culture. Some of the activities that can be done in El Paredón and its surroundings are:

Surfing: El Paredón is known for its perfect waves for all levels of surfers, from beginners to experts. You can take surf lessons, rent boards or just enjoy the show of the local surfers.
Explore the mangrove: El Paredón is surrounded by a mangrove full of wildlife, where you can observe birds, turtles, crocodiles and other animals. You can take a boat or kayak tour through the mangrove swamp, or walk along the ecological trails.
Get to know the local culture and gastronomy: El Paredón is a small fishing village, where you can learn about the daily life of its inhabitants. You will be able to taste the typical food of the place, such as fried fish, ceviche or tapado; buy handicrafts made with shells or coconut; or participate in painting or music workshops.
Relax and take care of yourself: El Paredón also offers options to relax and take care of yourself, such as doing yoga, receiving massages, meditating or reading a book in the hammock. You can also take the opportunity to cleanse your body and mind, as there are healthy and vegan eating options, and spiritual retreats.
Volunteer and help the community: El Paredón is a place that needs the support of visitors for its development and conservation. You can collaborate with different social and environmental projects, such as teaching English to children, helping at school or the health center, or participating in cleaning the beach.
What safety and hygiene measures are applied in the Airbnb in El Paredón?

Airbnbs in El Paredón agree to follow the safety and hygiene measures established by Airbnb and by the Guatemalan health authorities. These measures include:

Cleaning and Disinfecting: Hosts must clean and disinfect listings before and after each reservation, following an advanced cleaning protocol based on expert recommendations. They must also provide cleaning and disinfection products to guests.
Hotels and Accommodations that we recommend visiting:
Activities you can do in the Paredón